Please note Modern Health is not a crisis resource. We can link you to regional crisis resources through the mobile and web application. If you or a loved one is in crisis and needs immediate help, you can access 24/7 Crisis Information via the mobile app or web application. For instructions on how to access crisis information in the mobile app and desktop app, please follow the steps below.
Mobile App
Select the

Settings

icon at the bottom right of the home screen.

Select the

Access to 24/7 Crisis Information

banner at the top of the screen.

Select

Country Selection

depending on your preference.
Desktop App
Select your name at the top right of the home screen.

From the drop-down menu, select

Crisis Information

.

Choose your preferred country from the

Country / Region

drop-down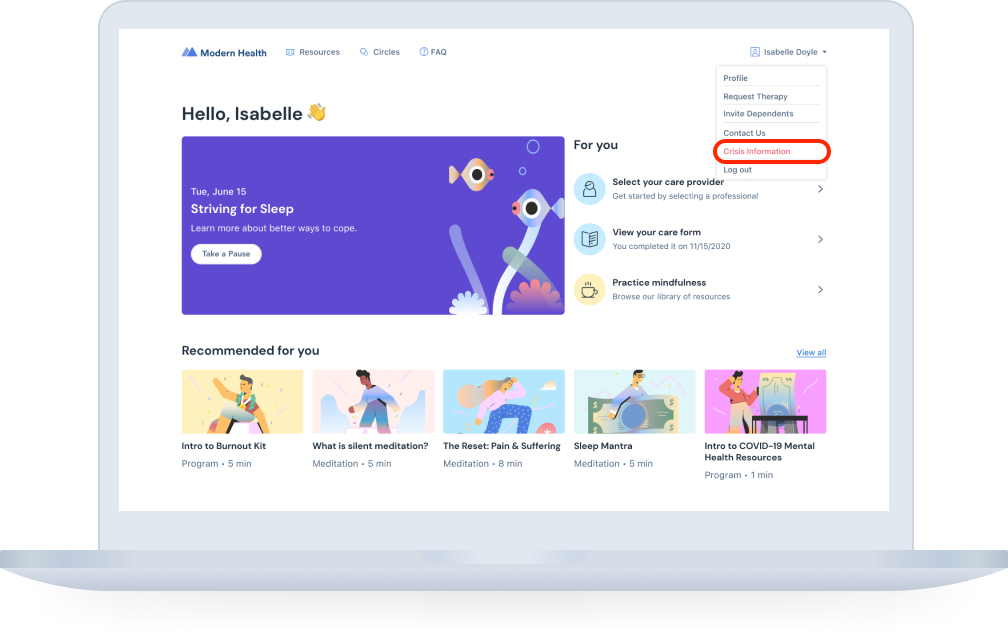 Reaching Out to the Member Support Team
Our Member Support Team can provide assistance in navigating the app or website, especially if you are having technical difficulties. They can also check how many sessions you have left and anything else that may arise during your user experience.
Additionally, we have a network of excellent clinicians who can see you for non-urgent care. If you're interested in getting connected to a provider, please reach out to help@joinmodernhealth.com. However, if you are in immediate need of support, we strongly encourage you to call your local emergency number, suicide hotline, or visit the nearest emergency room. If your company has access to a crisis line through an Employee Assistance Program, this is also a potential resource to utilize.